Tips: 10 RV storage ideas
---
These innovative solutions for motorhome and caravan will help keep clutter in its place.

BELIEVE IT OR NOT, we stumbled onto all these brilliant storage ideas in just the one RV. So thank you, Bob Datson from WA, for being one of the more innovative RVers in Oz.

Even if you don't think you have the room, you can create more space by organising your storage. Another advantage is that you spend less time looking for stuff while on the road. If you are annoyed by rattles, then many of the ideas presented here eliminate the problem – particularly the cup-and-plate ideas. Don't forget that your local caravan accessory dealer will also have lots of off-the-shelf products.




10 CARAVAN STORAGE IDEAS








01 DEEP CUPBOARD BAR


Putting a bar across the front allows deep cupboards without a restricting shelf. The cupboard doors are translucent plastic set into a 1in square aluminium frame. If you don't weld, then look at the tap-in corner connectors readily available from aluminium suppliers and of course Bunnings. Looks very chic. The door stays are super strong.







02 HAPPY HOUR DRAWER


A dedicated happy hour drawer, even with a little tomato sauce pot.







03 SLIDE-OUT BATTERY BOX


Think outside the box – the slide-out battery box using wet cell Trojans has a box at the front containing terminal cleaners, test gear and a small amount of distilled water. The black box in front of the Lemair washing machine on the right houses the dirty washing plus all the bits and bobs.







04 CROCKERY STABILISERS


This is a complete dinner set. Bob used plastic, but wood will work as well. Simply screw the posts onto a thin base or screw through from underneath.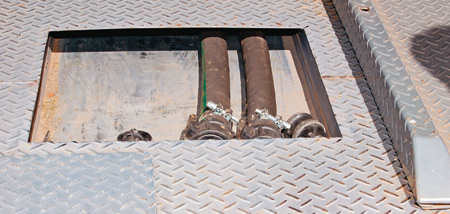 05 UNDER-FLOOR STORAGE


Don't forget under the floor. This trailer has a double floor so that all hoses can be neatly stored underneath and protected from stone damage.







06 SPECIAL DISH SLOTS


Casserole dish with gravy jug – the handle fits into a slot.





07 ENTERTAINMENT STORAGE
DVDs and videos are hard to store and they need to be close at hand. The aluminium bar across the front of the cabinet effectively solves the problem. You can pick these up from glazier outlets.







08 WINE GLASSES


A couple of very clever ideas here. The wine glasses enter via a slot, then drop into a 'hole'. The tumblers sit on round bungs.







09 ODD-SHAPED MUGS


A very clever way to store odd-shaped coffee cups. Note the slots for the handles. A hole in the base stops sideways movement.







10 CUTLERY


Simply the best cutlery drawer we have ever come across. Seats eight, too. We like the way it makes it so easy to see if you have lost something or someone has pinched a teaspoon.



WORDS AND PICS Bob and Chrissy Eustace

Source:

Caravan World

Aug 2009